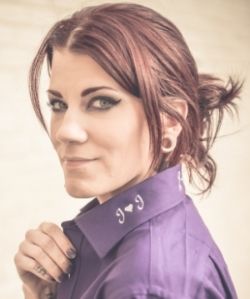 Joy Kathleen.
Married to the man of my dreams.
Hair stylist, makeup artist, special effects nerd. In love with Britain, my dog Widget, decorating, and films of all sorts.
Actor, writer, director, artist.
Obsessed with
Benedict Cumberbatch, James Franco, Kristen Stewart, Milla Jovovich, Kat Von D, and all things British and Makeup and film.
ME
ASK
So I was this close to my like, always and forever musical crush, Sully Erna. he came over, proceeded to wink at me and grab my hand and it was so magical. This is tues with how great my first Godsmack experience was. Now, all there is to do is meet them. After 12 years and 9 shows, I think I deserve it. #godsmack
That boy - that's the boy I fell in love with 11 years ago. The one who always had a piece of my heart, no matter how hard I tried. He has grown into such an amazing, smart, hardworking man, who I am honored and blessed to have as a husband.
Plus, look at how creaking ADORABLE he was!!! 😍😍
Oh it's not 2015 yet? I don't care I'm putting Benedict up anyways. I can stand to look at this pic for the next few months 😉
"He was just a dumbass" - x
OMGGGGG TMRW! I can guarantee that the 9th time will be better than ever :P #theseboys4eva #godsmack
Some throwback hair stuffs, 2 cuts and 2 colors I had so much fun doing! #hairstuffs
So, this lovely lady came into the salon the other day- her transformation was lovely! Unfortunately, I forgot a before pic, but she came in with a very similar front and sides, but a very grown out nape area. I took it up, added some beautiful layers, and have her some nice side bangs! It was so fun to give her a totally different look without taking off much of anything! She left thrilled, and that's what makes it all worth it! #happyhairhappylife #citysalonathens
#regram from last night! I love where I work!!! @citysalonath
❤️ @ami_be tonight's 2 year celebration for @citysalonath was so fun and amazing. Such an honor to be able to work with such wonderful people and my best friend! Yay!