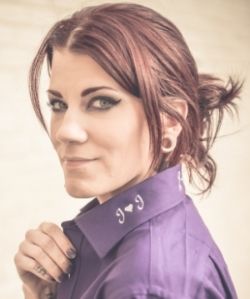 Joy Kathleen.
Married to the man of my dreams.
Hair stylist, makeup artist, special effects nerd. In love with Britain, my dog Widget, decorating, and films of all sorts.
Actor, writer, director, artist.
Obsessed with
Benedict Cumberbatch, James Franco, Kristen Stewart, Milla Jovovich, Kat Von D, and all things British and Makeup and film.
ME
ASK
Jennifer Lawrence & Kristen Stewart, drawn with colored pencils by _artistiq 
[please don't delete the credit to the artist]
After years of feeling guilty for not wanting to "dress like a girl," I finally let it go. With a little bit of help from Kristen Stewart.

LOVE LOVE LOVE!
I'm not gonna lie — Kristen Stewart in drag is pretty hot.

Watch here.
Some people get the wrong idea, you know. If you're quiet and you're just not the most gregarious person, that you're like.. I don't know, self-involved, rude possibly, frigid. I get that a lot from people who don't know me, like online all you guys think I never smile, ever. It's not true. I do smile sometimes.
Check-in to Lawless on tvtag