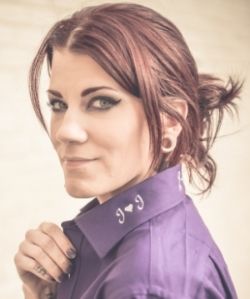 Joy Kathleen.
Married to the man of my dreams.
Hair stylist, makeup artist, special effects nerd. In love with Britain, my dog Widget, decorating, and films of all sorts.
Actor, writer, director, artist.
Obsessed with
Benedict Cumberbatch, James Franco, Kristen Stewart, Milla Jovovich, Kat Von D, and all things British and Makeup and film.
ME
ASK
15 pictures of the people you adore

Sully Erna (5/15)
Favorite foreverrrr
Kristen Stewart is amazing. She's one of the most vocal feminists, she stands up for teenagers and YA and talks about following your gut and owning up to your mistakes and learning from them, about how judging people is not gonna do anything good and how it's okay to feel sad, and tbh if you don't like Kristen Stewart I can't fully trust you.
the only photo set that actually matters on this stupid website
this post is my dream come true

babies with babies

i like that all the mama's expressions are like "I DID IT! I MADE THESE FUZZY BURRITOS"
Love foxes
The most magical creatures!
You got a problem?